WE'RE A FUTURE-FACING NEIGHBOURHOOD, STEEPED IN INDIGENOUS AND MARITIME HISTORY.
Stand in the middle of Victoria Harbour with its commercial and residential buildings, restaurants and shops, and it's hard to imagine it was once a wetland area of swamps, waterfowl and fish. The area now known as Docklands was part of the Lower Yarra Delta and for thousands of years was used as a hunting ground and meeting place by Aboriginal communities.
In 1803 the first European Settlers arrived and in 1835 John Batman and John Pascoe Fawkner founded their illegal settlement, later named Melbourne. By 1860, Docklands was home to the West Melbourne gas works, railway industry, an explosives magazine and pottery works. Abattoirs, fellmongeries (dealers in animal skins and hides) and tanneries also set up in the area.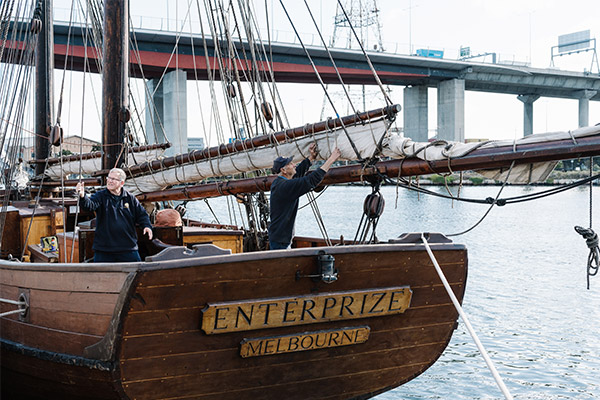 Construction began on Victoria Dock in 1880 and by 1908 it received around 90 per cent of Melbourne's imports. For more than 50 years it was Melbourne's most prolific dock, handling cargo including coal, steel, animals, wool and wheat. In the 1960s, new methods of delivering cargo in containers began to render Victoria Dock obsolete.
Today, Victoria Harbour has a very different face but its heritage as a bustling place of trade remains. It has transformed into a lively neighbourhood, where over 130 retailers sit alongside large corporate businesses, numerous food and drink outlets and residential properties. It's a place where work, life, food and culture converge, in the very best way possible.